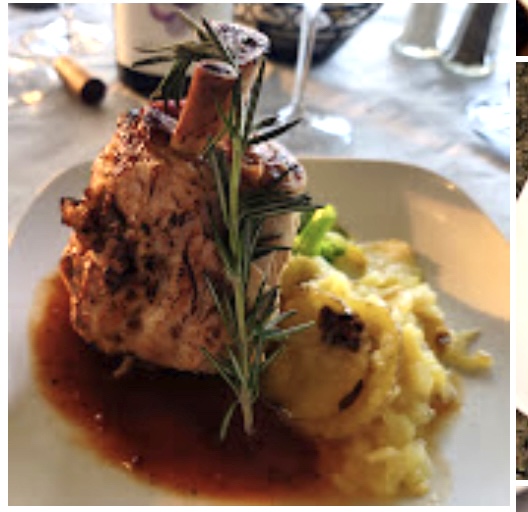 Our Menu
SMALL PLATES/STARTERS $5-16
A Little White.....She Crab Soup
A Little Red....... Soup du Jour
Fried Green Tomatoes Fresh Green Tomatoes Sliced & Served w/ Goat Cheese & Apple-Wood Bacon Crumbles
Ahi Tuna w/ Asian Slaw Sliced Thin & Served Rare w/ Green Goddess Wasabi Sauce & Wonton Crisps
Chefs Featured Appetizer
Caribbean Jerk Shrimp Pan Seared in a Creamy Jerk Seasoning
Market Shellfish Featured Daily Fresh Selections Market Price
Pork Belly Hickory Smoked, Sweet Chili Glaze, Siracha, Garlic, Cumin and Paprika
Escargot Served in Garlic Herb Butter
Vintage Style Calamari Lightly Breaded and Sauteed with Sweet Peppers and Thai Chili Glaze
Shrimp Cocktail Argentinian Red Shrimp with Fired Up Cocktail Sauce
Blackened Steak Bites Buttermilk Onion Ring and Creamy Horseradish Sauce
Cheese Board Three Artisanal Cheeses with appropriate accoutrements
FULL PLATES $19- 38
Served with Fresh Bread, our Trademark House Salad, Chef's Recommended Side
V.O. 5. Shrimp & Grits Smoked Gouda Grits & Large Shrimp Topped w/ Smoked Bacon, Baby Spinach, Shallots & Portabella Mushroom Cream Sauce (petite portion available)
5th Street Mac & Cheese Penne Pasta Tossed w/ Goat Cheese, Diced Tomato & Sliced Pan-Fried Chicken Breast (petite portion available)
Chicken Scallopini Pan Seared with your choice of preparation: Picatta~Rustica~Marsala
Fresh Cut Gulf Grouper Your Choice of Preparation: Pan Fried~Jerk Seasoning~Francese
Fresh Seafood Market Selection Depends on What is Fresh, Interesting and Available
Sesame Soy Glazed Ahi Tuna Ahi Tuna Seared & Served Rare with a Wasabi Cream Drizzle
VO5 "Cioppino Style" Fish Stew Red Based with Fish, Calamari, Shrimp, Mussels or Clams
Signature Veal Chop Large, Frenched Veal Chop with our House Baste Baste & Served with Chef's Potato
Angus Beef Tenderloin 8 oz. Hand-cut Tender Filet Seasoned w/our House Baste, Dry Rub or Maitre d' Butter. Served with Chef's Potatoes. *Add Blue Cheese Crumbles or Sauteed Mushrooms or Onions
Angus Ribeye 16 oz. Hand-cut Large Ribeye Seasoned w/ our House Baste, Dry Rub or Maitre d' Butter. Served with Chef's Potatoes
"Maple Leaf Farms" Roasted Half Duckling with Chef's Sauce of the Day. Served with Risotto
Rack of Lamb Full Rack of New Zealand Lamb, Grilled and Served w/ Chef's Sauce of the Day
Chef's Ravioli Selection Add Shrimp or Chicken
Signature Pasta Sauteed Shrimp, Tasso Ham, Andouille with a Spicy Cream Sauce over Fettucine (petite portion available)

FINE ENDINGS $6-9
Creme Brulee Creamy Vanilla Cream Custard with Caramelized Dark Sugar Crust.
Chef's Chocolate Feauture
House Made Key Lime Pie
Old-Fashioned Root Beer Float
Carrot Cake Cheesecake House-made Cream Cheese Frosting
Please note: Every item at VO5 is prepared to order. Please relax and enjoy! If time is a concern, please notify your server; we will always do our best to accommodate your needs.
A 20% Gratuity may be added to parties of 6 or more.